From easy registration to quick onboarding, mymrp candidate portal allows you to start working and get paid within days of applying. All from one platform.
Register, update your details, and book shifts in one place with the mymrp candidate portal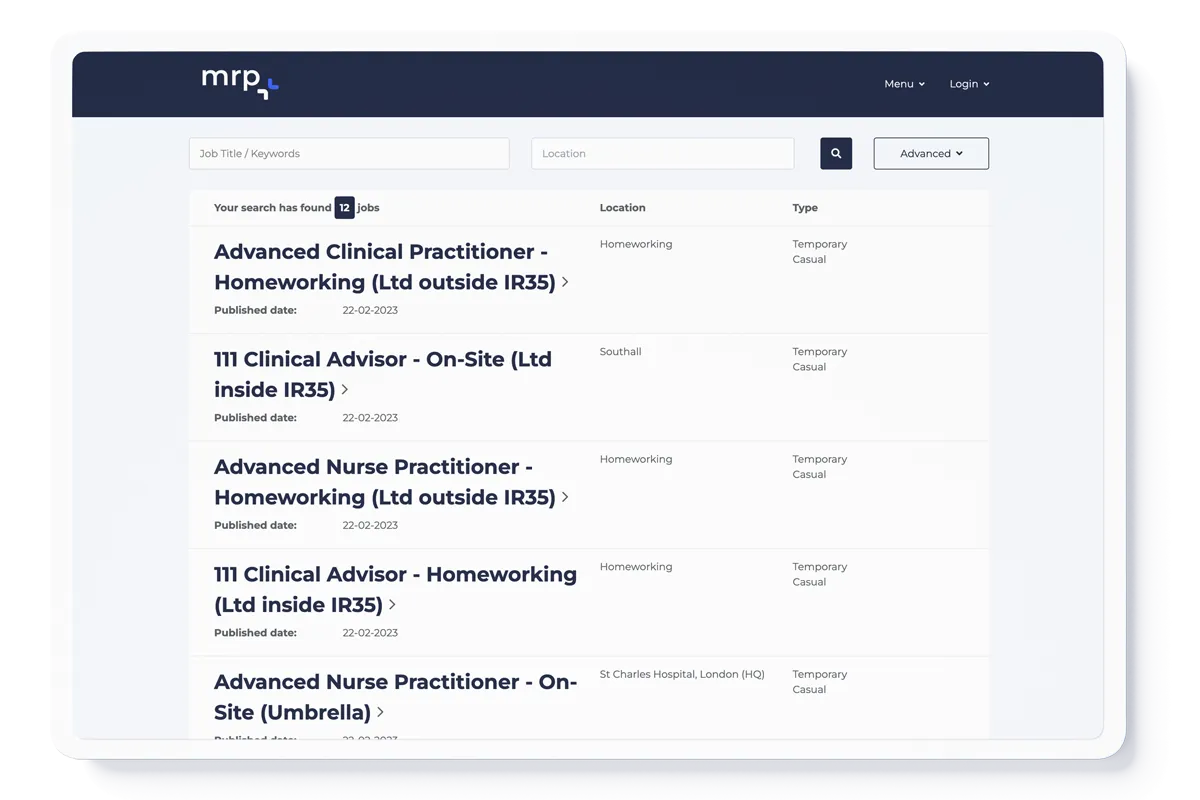 Track shifts and keep everything in one place with our candidate portal
Get help with registering or do it yourself - it's up to you!
Search roles and update your availability live on the portal
Create and update your own candidate profile
Once you register and create a profile on the candidate portal, you can update your details and personalise your portal including:
Work experience
Education and skills
Type of roles (temp/perm/remote)
Desired compensation
"It's so easy to book and swap shifts and I am always paid on time"
"They've worked tirelessly to provide the best service available to date."
"If I've ever needed any of the staff, they've always been there"
"If I ever have a problem, it's never a problem for long. 10/10!"
"mrp has a very smooth and efficient onboarding process"
"mrp put my shifts on a rolling rota to suit me and paid weekly which is a bonus. Overall my experience of working for mrp has been really good"
Easily complete all checks & training
Our state-of-the-art right to work partnership with Credas ensures quick and easy right to work checks. Additionally, we can process DBS checks and provide free online mandatory training to all candidates, including on an ongoing basis.
Support & guidance for specific requirements
DBS checks & free online mandatory training
State-of-the art right to work partnership with Credas
Front of the queue with healthcare employers
Once compliance and onboarding are complete, we get to work booking inductions for you with employers. When inducted, you can provide your availability either directly to your consultant or using the my availability tool in your profile.
We then book and confirm shifts – our close working relationships and exclusive contracts with healthcare employers mean you'll never struggle to find shifts.
Find your next shift or get in touch
How long does it take to register/start work?
As soon as you are registered you will be contacted by our compliance team who will help guide and support you throughout the onboarding process. We regularly get candidates fully compliant and working in less than a week.
Is there any minimum commitment?
Once registered and compliant with mrp, there is no obligation to accept any work offered. Our experienced and dedicated team will, however, always aim to find the best opportunities that meet your unique requirements.
How often will I get paid?
We pay weekly and you can access your payslips and other pay-related information from our pay portal at any time.
Do you have work near me?
Yes! In addition to remote roles which can be undertaken from anywhere in the UK, we have a wide variety of work at locations across the UK. Your dedicated consultant will work closely with you to find opportunities that suit you.
Can I choose which shifts I work?
At mrp we appreciate one of the main benefits of agency work is flexibility and we will never dictate to you, our job is to offer a range of work that works around you.
Do you have remote work?
Yes, in fact we are one of the leading remote healthcare work agencies in the UK.
What payment method options are there with mrp?
Payment options are largely driven by role IR35 status and specific client requirements, however, as an agency, we offer PAYE, Umbrella and Ltd Company (inside and outside of IR35).