Connecting you with talented nurses, doctors, and AHPs from every corner of the UK and beyond.
Expert clinicians ready to start booking shifts
We cover all primary care settings with a focus on identifying resourcing gaps before they happen. We work closely with clients and continuously field the best candidates for these gaps. We aim to stay ahead of your requirements at all times and have clinicians ready to book shifts when you need them.
Proactive staffing gap analysis
"It's so easy to book and swap shifts and I am always paid on time"
"They've worked tirelessly to provide the best service available to date."
"If I've ever needed any of the staff, they've always been there"
"If I ever have a problem, it's never a problem for long. 10/10!"
"mrp has a very smooth and efficient onboarding process"
"mrp put my shifts on a rolling rota to suit me and paid weekly which is a bonus. Overall my experience of working for mrp has been really good"
Highest levels of compliance
We work closely with you to understand your compliance requirements and ensure our candidates are compliant with the latest NHS employment check standards.
View candidate profiles using our online client portal
View live compliance and onboarding progress
Support for online mandatory training, DBS and digital right to work checks for candidate
Support and oversight from mrp clinical lead
Upload jobs and view candidate
documents in one place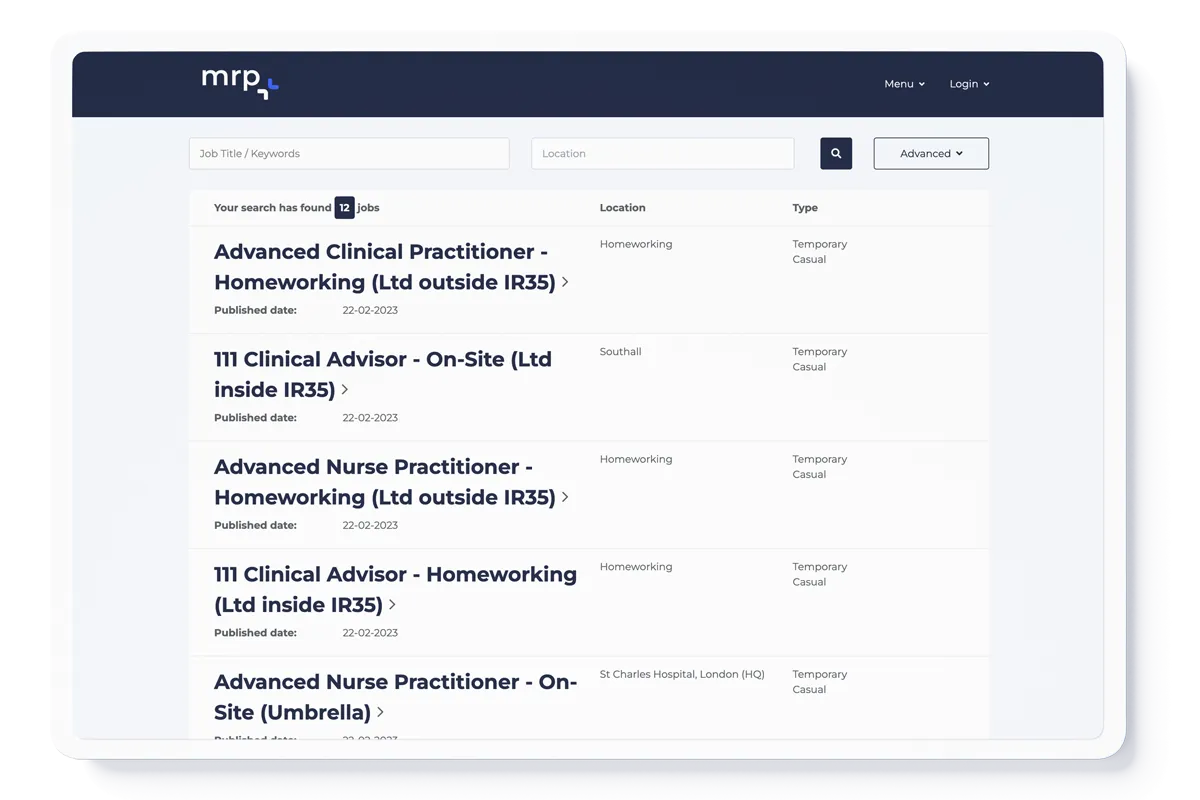 Submit vacancies directly to our portal where candidates can apply for them
See live details of candidates and their compliance and onboarding progress

Rate candidates and give and receive live feedback on the portal
Find your next shift or get in touch
We cover all primary care settings with a focus on
Our workforce of clinical advisors for NHS 111 roles possess excellent interpersonal skills, have been thoroughly vetted, and are up-to-date with all mandatory training and checks.
Experienced practitioners such as nurses, paramedics, and AHPs who possess the necessary skills and dedication to provide excellent patient care in a fast-paced environment.
Expert clinicians with experience working in out-of-hours settings who are up-to-date with training and checks, including DBS, occupational health, and safeguarding checks.
Highly skilled GP candidates with extensive experience working in a variety of clinical settings, as well as ones with specialised expertise in specific areas.
Clinicians such as nurse practitioners, emergency care practitioners, and advanced clinical practitioners with expertise in urgent care and minor illness management.
Practitioners with experience in assessing and treating a wide range of injuries who have the necessary skills to provide urgent care to patients with minor injuries.
Our candidates include GPs, mental health nurses, and substance misuse nurses with expertise in providing care to individuals within the criminal justice system.
Skilled practitioners such as GPs, district nurses, and healthcare assistants with expertise in providing care to patients within their own homes.
Contact us and let's start building an amazing partnership.
What kind of clinicians can you supply?
We supply a full range of specialities across the primary care sector as you can see here.
Do you provide full compliance documentation?
Our compliance team works to NHS employment check standards plus any additional client-specific requirements. Our team is happy to provide packs to suit your requirements prior to the beginning of any assignment.
Do you have a clinical lead?
We have a strong focus on clinical issues and standards and engagement with our clinical lead is part of new client onboarding. Our clinical lead is also available throughout any engagement to discuss and support with clinical matters.
What are your charge rates?
We are experts in healthcare recruitment and are therefore able to agree on charge rates that attract the best clinicians whilst allowing sustainable supply and long-term relationships with our clients. We offer full transparency at every stage of the process.
Do you supply remote workers?
We supply a large number of remote clinicians to a variety of services, making us one of the main suppliers across the UK.
What out of hours support do you provide?
We have a dedicated out-of-hours support for bookings and cancellations and see this as a key part of the service to any healthcare provider.
Do you support with rota management?
Our consultants are experts in healthcare recruitment with a wealth of experience not only in finding the right clinicians for your service but also in working with you for an overall solution to your temporary staffing requirements, including rota management and short-term/critical cover.
Can you support with permanent recruitment?
 We have an experienced team that specialises in permanent recruitment who take time to understand your requirements in order to deliver you the best talent most suited to your service.
What areas do you cover?
We have a large database of clinicians that we supply all over the UK with consultants dedicated to each region.